What will you say when someone tells you one day that you will have the privilege of spending two days and two nights at Marriott Hotel in Bangkok for FREE?  You'd probably be like me– "very happy" would be an understatement!  
Since hubby would not be allowed to swim in pools because of his ear problems, I had to swim today.  I don't like swimming that much but I enjoyed it with the kids.
Ria and I wore our pink swimsuits
Pink Kalachuchi on the pool…

this one's on the ground

…and I've got one on  my hair!
a closer shot… hubby had a hard time with finding the angles– the unnecessary bulges had to be out of sight!  I may not be one hot momma, but I am definitely PINK! LOL.:)
My share for: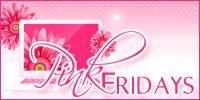 P.S.you might like to take a peek at our hotel room here!